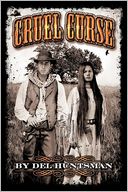 Del Huntsman has resided in the Southwest for a number of years.  He has enjoyed a fascination for the American West since his youth.  As an outdoor enthusiast and admirer of the geography of the southwest, he has spent much of his time studying the local folk lore of the region while exploring the rugged beauty of the landscape.
There have been many stories about the Southwestern Frontier using its volatile cultural dynamic as a backdrop.  What makes Del's literary style different is his ability to delve into the complexity of those issues from the perspective of the characters without exploiting the stereotypes.  His prose can be quite graphic and even disquieting when describing the lurid potential of human nature.  With the same unflinching honesty he will also bring the reader back from that moral precipice, leading them into a more optimistic prospective.  His transitions cover a wide range of human experience from the brutal injustice of depraved indifference to the lustful excitement of passionate expression.  His daring approach brings the characters to life in a bold and believable way.
Del's willingness to take the reader beyond the customary restraints of conventional "Old West" storytelling to a more graphic portrayal of human nature gives an edgier feel to the narrative, while also serving to enhance the traditional flavor of the genre.  Be prepared for a wild ride.
Cruel Curse is a haunting tale about a wrongly accused Civil War Soldier named, Jim McBride.  After tragedy strikes outside Savannah, Georgia, during Sherman's push to the sea he suffers a crisis of conscience.  In fear for his life he escapes west to New Mexico Territory in a desperate attempt to avoid losing his freedom on charges of desertion brought against him by an unprincipled Army Captain named, Leyden Graves.  After a bloody confrontation leaves the Captain maimed and mentally deranged, Jim discovers that the time and distance he put between them hasn't discouraged Leyden from trying to fulfill his quest for revenge.
Years later the outcast officer catches up to Jim while attempting to steal a gold shipment Jim is assigned to protect, but fails to kill him during the assault.  He does, however, manage to capture the gold, setting off a chain of events that will take both men through a series of life altering encounters.  The story takes place against the backdrop of a volatile New Mexican frontier, eventually leading to a final confrontation only one man can survive.  At stake is the life that Jim longs to live, with the Navajo bride he has come to love after saving her from a life of servitude.  If not for the help of her devoted brother all hope would be lost.  It is a story of regret, survival, redemption, and the casting out of demons from the darker place within.